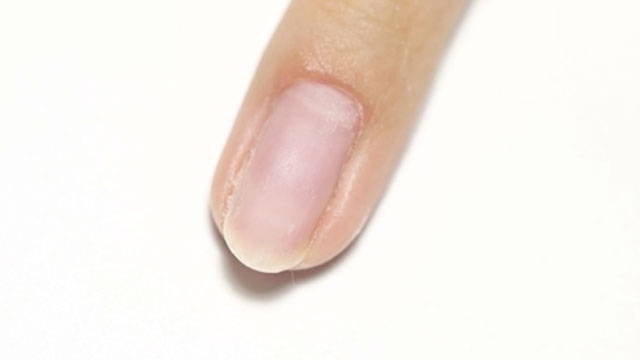 - Push back cuticles and lightly buff the natural shine.
- Grab our brand new Glass Nail File to shorten and even out the natural nail.
- Next, grab a lint free nail wipe soaked in alcohol to remove oils and filing dust. It's important
to use wipes that don't leave fibres which ruin your mani.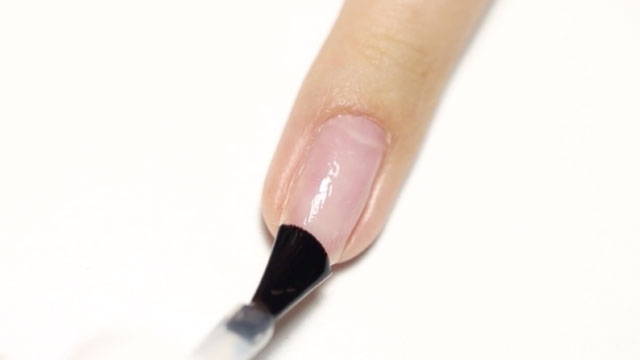 - Cover the natural nail with a thin layer of base coat.
- Get as close to the cuticle and nail edges as you can, but do not touch the cuticle.
- Cure for 30 seconds in Rossi UV Led Nail Lamp.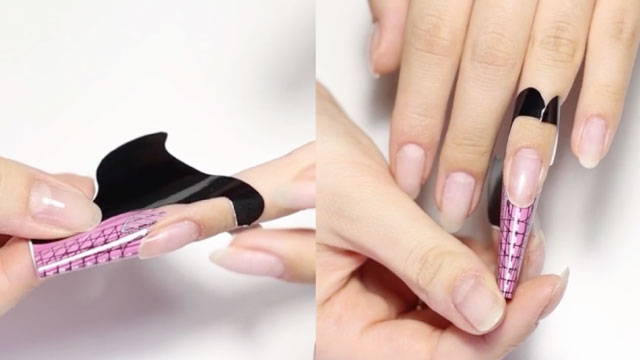 - To extend the nail grab Paper Nail Forms.
- Roll the form between your fingers to create your C-curve.
- Remove the backing paper, open the form and stick together the front tabs making sure they are symmetrical.
- Set the form under the nail making sure there are no big gaps between the form and the nail.
- Align the middle line of the form to the middle of the nail.
- Close the form underneath the finger. Pinch the form two number under the length you want to achieve.
STEP 4 - CREATE EXTENSION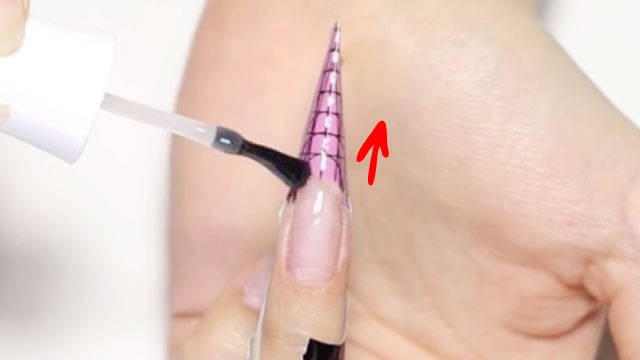 - First create the length of the nail. Apply product on the free edge of your nail where the form starts.
- Working from the free edge, spread out the product down your extension to create your desired length and shape.
- Cure for 60 seconds.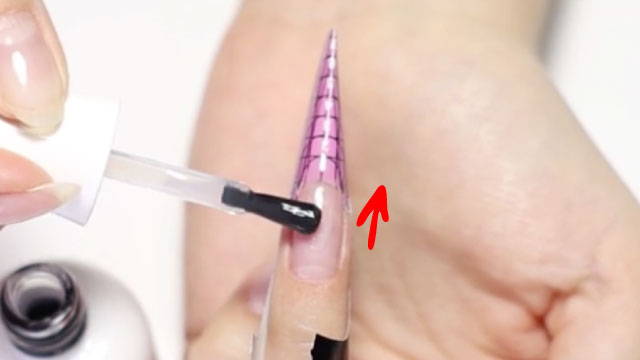 - Next, apply more product to create an apex. Apply a thin layer on the full nail.
- You'll want to find the middle point of the nail and apply more builder gel. Spread the rest of the Builder Gel out towards the tip. This product has a thick formula that applies smoothly and evenly.
- Turn your hand upside down for 10-15 seconds for the gel to self-level and create a perfect surface.
- Cure for 60 seconds.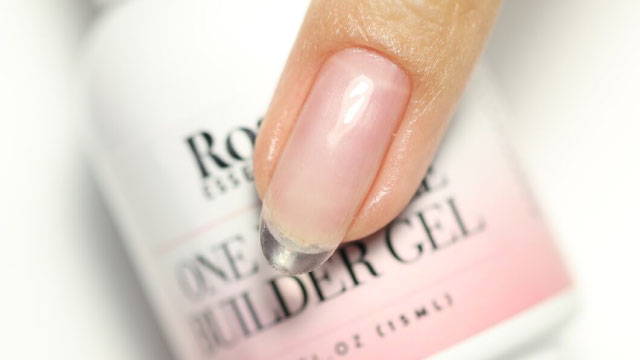 - Remove the form by pinching it together and pushing downwards, then wipe off the sticky layer with a lint-free wipe soaked in alcohol.
- File and shape the nail, then remove the filming dust.
- Our builder is perfectly crystal clear! You can see how clear it is after applying a layer of top coat.
STEP 6 - APPLY DIP POWDER OR GEL POLISH (OPTIONAL)
- You can continue your manicure by applying dip powder, gel polish or normal nail polish.
- Follow the usual steps for each nail product according to their instructions.
- The color used here is Holographic Gel Polish, Cancelled Flight.